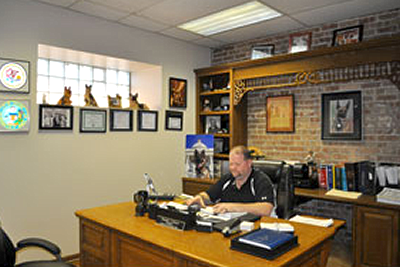 Action K-9 Security Inc., as it is known today, was formed from Clancy's K-9 Security. Clancy's K-9 was originally founded by Patrick Clancy in the early 1960's in Chicago, IL. Patrick was the pioneer of the k-9 unit security industry, matching highly trained security k-9s with reliable, professional security officers. Having pioneered the efficacy of security services in Chicago, IL for guard dogs, and giving security officers in Illinois more tools for their arsenals, we have set the stand for every security company in Illinois. By taking the model of the K-9 police officer and applying it to the private security field, Patrick created a very efficient and effective tool for the private security trade. Patrick Clancy's revolutionary idea of introducing k-9s as a security instrument proved to be successful.
Clancy's K-9 Security was contracted by the International Amphitheater in Chicago to provide crowd control and protect the artists that performed to sold-out audiences. Some of the artists included icons such as Frank Sinatra, Pink Floyd, The Who, and many, many more. Clancy's K-9 was also involved in the 1968 Democratic National Convention at the International Amphitheater where protesters and law enforcement clashed just blocks away. Success did not stop there. Clancy's K-9 Security was also contracted for security for the construction of the Stevenson Expressway. The Stevenson, also known as I-55, stretched from Cermack to 1st Ave. For this project, the use of K-9 units was essential to the officers securing the materials and equipment of the various contractors because it allowed the officers to cover nearly ten times the amount of area a typical security officer could cover.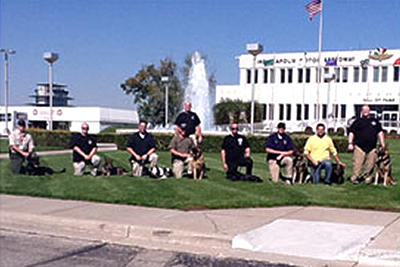 Clancy's K-9 Security played an integral role in the development of Chicago. Patrick was commissioned to patrol and protect the Stockyard Municipal District. The district included over thirty separate buildings, each one patrolled with k-9s. At the same time, Clancy's K-9 protected the Central Manufacturing District, which included over thirty buildings to be patrolled with k-9s as well. These large industrial districts were staples in the development of commerce and the building blocks from which this city was formed. With Clancy's K-9 Security teams patrolling these districts, the theft rate was significantly reduced; this allowed the companies doing business in the districts to see greater profits and expand their businesses.
Synonymous with Chicago history, Clancy's K-9 Security provided K-9 security for a wide assortment of clients. Clancy's K-9 serviced the famous and some may say slightly infamous. Hugh Heffner, the creator and C.E.O. of Playboy personally contracted Patrick's K-9 teams to protect the Playboy club and its patrons. Mr. Heffner was so pleased with the service Clancy's K-9 provided, he hired them to patrol and protect his newly constructed Playboy Mansion. Clancy's K-9 Security would provide security services for Mr. Heffner until his move to California.
SUPERIOR PROTECTION FOR THE THINGS THAT MATTER MOST
At Maywood Park Race Track in Maywood, IL. Clancy's K-9 Security K-9 teams patrolled and protected the parking lots and stables of this Chicago landmark. K-9 teams oversaw Maywood's large expansion project including construction of 39 fireproof steel and concrete barns-containing 984 stalls-13 blacksmith shops, six separate fireproof motel type living units containing more than 200 rooms. Clancy's K-9 teams were on hand for World Heavyweight Champion Muhammad Ali's successful win in an exhibition race for charity. Mr. Clancy's K-9 teams became very popular with race fans and were a mainstay at the race park for many years.
Clancy's teams proved to be very reliable. K-9 teams monitored access to and from facilities, patrolled key access areas, and maintained a high level of visibility while sustaining security integrity. Clancy's K-9 serviced a wide variety of industries. Above these noteworthy sites, Clancy's K-9 serviced countless sentry K-9 unit sites, unmanned K-9 patrol, providing their clients with a new, low cost, highly efficient alternative to the security guard. This new service afforded small business owners to stay competitive in their pricing by keeping costs low while continuing to maintain a high level of security.
Patrick Clancy loved and cared for every one of his K-9 units. The guard dog's health and safety were of the utmost importance to him. He instituted strict guidelines on the care and maintenance of his guard dogs, followed by his staff without exception. Patrick trained and helped train police K-9 units throughout the State of Illinois, offering tips and strategies. Police departments all over the world have incorporated many of the rules and procedures Mr. Clancy established over 40 years ago. He invented one of the first designs of safe K-9 transport vehicles. Revolutionary by today's standards and very costly, these vehicles paved the way for designs seen today.
Patrick Clancy, owner and founder of Clancy's K-9 Security, passed away unexpectedly from severe heart failure. Clancy's K-9 Security became Action K-9 Security, Inc. in the early months of 1990 after control was relinquished to one of his sons, Timothy J. Clancy. Although the death of Patrick Clancy was sudden and untimely, his spirit and ideals would live on. Mr. Clancy has taken his father's revolutionary company to new heights, including never-before-seen k-9 integrated services into the private security industry.
Action K-9 Security, Inc. has become a security services provider specializing in k-9 deployment and utilization, protecting America's private and government operations, facilities, and interests. Action K-9's objective is to present our clients with the latest security tactics, strategies, and technology, while constantly maintaining the ethics and professionalism set forth by our founder over 40 years ago. K-9's are a critical component in the effectiveness of our program; they are a time-tested, less-lethal alternative to the conventional methods commonly employed by security providers past and present. Unlike many security providers, k-9s are fully integrated into nearly every division of Action K-9 Security, whereas other providers merely use them as a marketing device. The mission of Action K-9 Security is to establish priority and peace of mind for each one of our clients, large or small.
Since Mr. Clancy took control of Action K-9 Security Inc, we have had a long and rich history. We have fulfilled many contracts with the City of Chicago, including the Taste of Chicago and the musical festivals held in Grant Park. Action K-9 Security, Inc. was an integral part in the construction of the South and West Centers for The McCormick Place. Action K-9's services are currently under contract by Chicago Park District's Marine division to patrol and protect some of Chicago's most well known harbors. Standard Parking, parking authority for Navy Pier and O'Hare International Airport, utilize our elite K-9 teams to provide a secure and safe experience for their customers. Action K-9 Security also protects some of the world's most priceless pieces of art at the Artropolis exhibit located every year in the Merchandise Mart. McHugh, Walsh, and Pepper Construction have utilized our services for various skyscraper condominium projects in and around the downtown area as well. Action K-9 Security, Inc. has protected thousands of Chicagoland properties since the early 1990's and continues to strive to be the most efficient form of security available.
We currently hold strong recommendations from the Chicago Fraternal Order of Police, Animal Care and Control, and The Animal Welfare League. We are a member of A.S.I.S. International; the largest community of security contractors in the country. We hold certifications from the A.T.F and the D.E.A. The Department of Natural Resources and the Illinois Association of Bomb Technicians and Investigators (IABTI) have recognized Action K-9 Security as a security services provider in Illinois recognize us.