K-9 Patrol Unit | Chicago, IL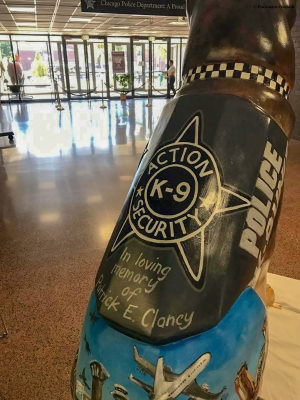 The K-9 teams of the K-9 Patrol Unit provide our clients with the most effective and efficient layer of security. These K-9 Teams, comprised of a highly-trained Security Officer and a Security Patrol K-9, provide an excellent visual deterrent to crime and increase public awareness while presenting a positive and professional image.
K-9 Patrol Unit teams have the ability to reduce your liability in multiple ways. Our officers have the proven advantage of working with highly-skilled, highly-trained Security Service Dogs (SSD). These K-9s are able to detect threats long before they become apparent by way of their uncanny sense of smell and hearing, affording the officer greater self-protection, and provide a less-lethal alternative to firearms. With over 200 hours of initial training and hours of continuous proficiency training, Action K-9 Security Inc.'s K-9 Patrol Unit teams are, without a doubt, the most viable security option available to the public.
According to the Transit Cooperative Research Program report, K-9 Patrol Teams have the capabilities and range of four armed officers. The TCRP Report also goes on to say that K-9s are good for public relations, supports outreach with the community and media, and provides a strong symbol for public safety. In addition, k-9s are proven to be an effective tool for deterrence and order maintenance. Customers generally like k-9 teams while criminals fear them; the preferred ingredients of an effective security option.
Our K-9 Patrol Unit teams specialize in:
Public Transportation Security
Airport Security
Marinas and Sea Ports Security
Stadiums, Arenas and Outdoor venue Security
Tourist Attractions Security
Crowd Management and Control
Building search and clearing
Construction Projects
Please Contact one of our knowledgeable security consultants to review your security needs and to recommend an optimal deployment strategy for you.
"The Capability they (K-9s) bring to the fight cannot be replicated by man or machine. By all measures of performance, their yield outperforms any asset we have in our inventory…"
— General David H. Petraeus